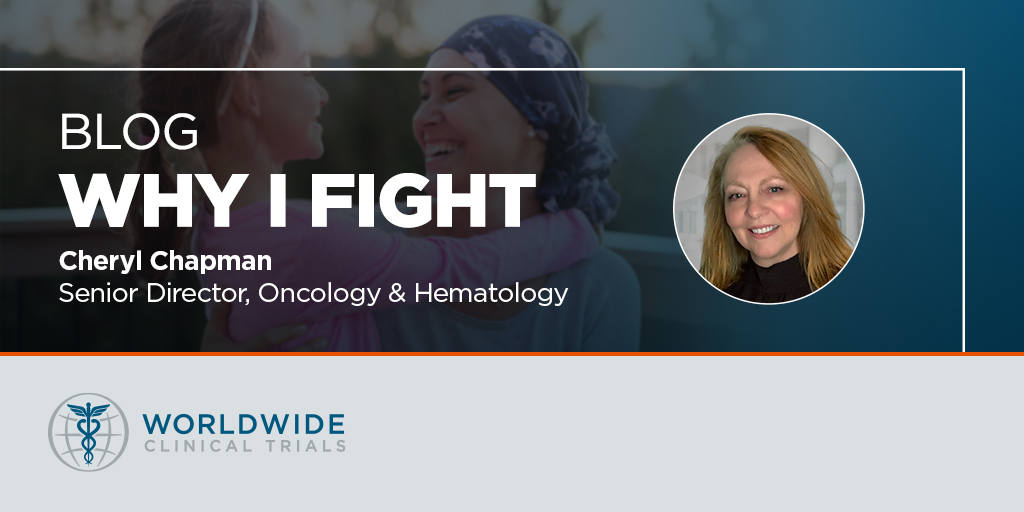 Life after cancer is about more than just survival. It's not just the length of life that matters, but also the quality of that life. Join us as we celebrate cancer research awareness month and clinical trials awareness month.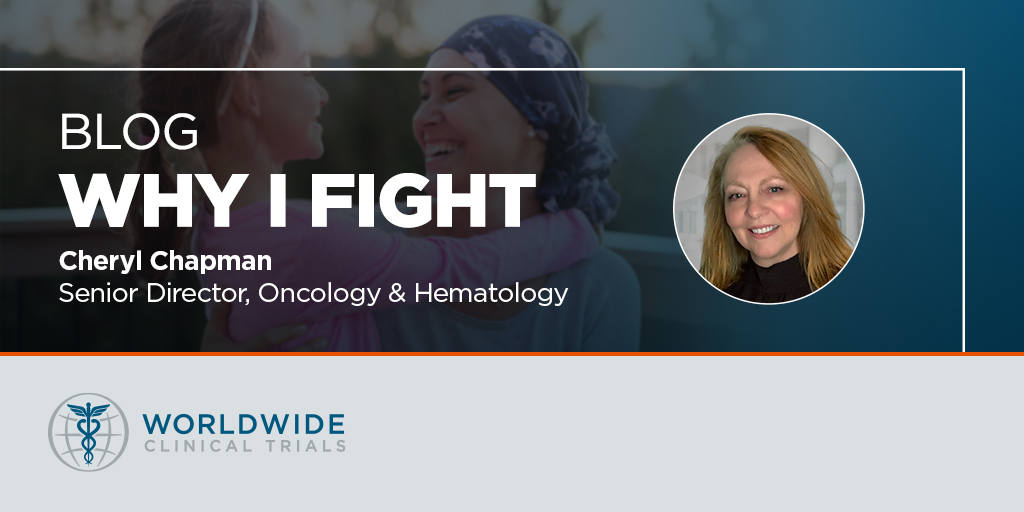 A Cause That Hits Close to Home
Oncology is special. I've worked in other therapeutic areas, but cancer studies make me feel as if I'm serving patients who have a narrow field of treatment options.
Speaking personally, I've lost my grandmother, and, more recently, my mother-in-law, to cancer. These weren't happy deaths; they didn't have a lot of quality of life in the last six months or so. I've been in clinical research for more than 20 years, nine of them in oncology. I've set up and run a clinical trials unit; I've worked as a research nurse, a CRA, a project manager, a director; and I've worked in feasibility. Through all these experiences, I can say that working in oncology makes me feel my life makes a difference. Anything I can do to help other families facing this challenge is what I want to do.
Now that we're aiming at more targeted therapies, cancer treatment is becoming less traumatic. I know there's not going to be a magic bullet, one thing that suits everybody's situation, but patients do have more treatment options now. That's what it's all about. Even if we can't save people every time, if we can make their lives more bearable and less burdensome, then that is worthwhile too.
Inspiration in Surprising Places
The thing about cancer is that both treatment options and our understanding of the disease are always evolving. The more we learn, the more opportunities we have to seek out more effective treatments. And, from a drug development perspective, there are so many fields that we can look at and learn from. I find it fascinating, for example, that several species are known to be extremely cancer resistant; is there something we can learn from that to help humans? There are all these natural things that we don't understand yet that maybe we can adapt to our research.
Making the Most of Our Time and Effort
In my work with Worldwide Clinical Trials, I coordinate clinical trials, assisting our sponsor partners so that they can get the best results from their projects. A lot of our sponsors are very small companies, so they have to spend their money wisely. It's really important that people like me make sure their money isn't squandered. Part of my role is doing what I can to make everybody's time and effort worthwhile, ensuring the sponsors' studies are heading in the right direction.
Something I really appreciate about working with Worldwide is the freedom I have to pursue my passion. There is a drug that I started working on four years ago when it was in early phase. I'm hoping to be able to continue working with this product to see it through to Phase III and beyond. Through my years working on this drug, I've not only been promoted to a director within Worldwide but also have been given the freedom to stay on this study as project manager, because our leadership recognizes this is something I'm excited about and they want to support me.
Learning from the Pandemic
I think the COVID-19 crisis shook us up a little bit, which is good. It made us look at what we're doing and why we do it, and as a result, we were able to break out of some longstanding, outmoded habits. In the past year we've learned to work with sites in a new way, with a new spirit of cooperation. For oncology patients participating in a clinical trial, we had to keep moving forward because for them it was not just a research project but a crucial part of their medical care. It was never just a matter of we're the CRO and they're the site, and ne'er the twain shall meet, but COVID-19 helped center us all on collaboration and ensuring we do what's best for the patient.
Fostering a New Generation
A large part of my job that gives me satisfaction is bringing on team members so they can contribute more to their studies, to the sponsor, and ultimately to the patients who are going to benefit from our work. For me, it's important to be bringing along the next generation of people who will be helping patients in the future, inspiring them to see the real contribution and difference their work is making for other people.
Not for Everybody
I realize this work is not for everybody. In the early phase of an oncology study, it can be upsetting because you see patients who are at a difficult stage of their disease, and the investigational therapy is still not refined. And you know that if a patient goes into an early phase study, it's because their options are limited. Then, there comes a turning point when you realize the therapy is helping patients. I often remember those bright spots when suddenly something seems to be working, and we get results showing we are on the right path. That part is truly thrilling.
Learn more about Cheryl and her work with oncology at Worldwide Clinical Trials.