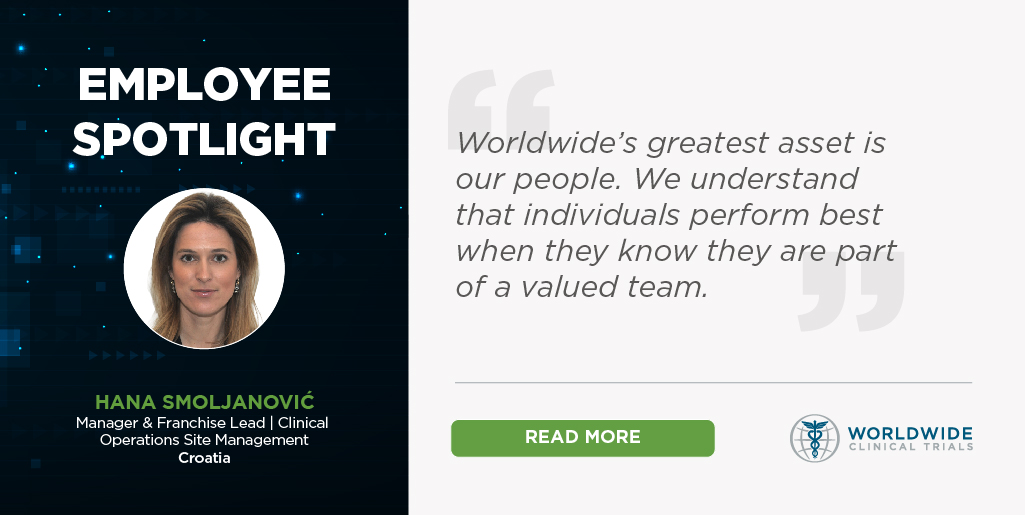 In our latest employee spotlight Q&A, Hana Smoljanovic shares her experience as a Franchise Lead in clinical operations site management for Worldwide Clinical Trials. She discusses her personal and professional motivations, and what she believes best sets Worldwide apart from other CROs – our people.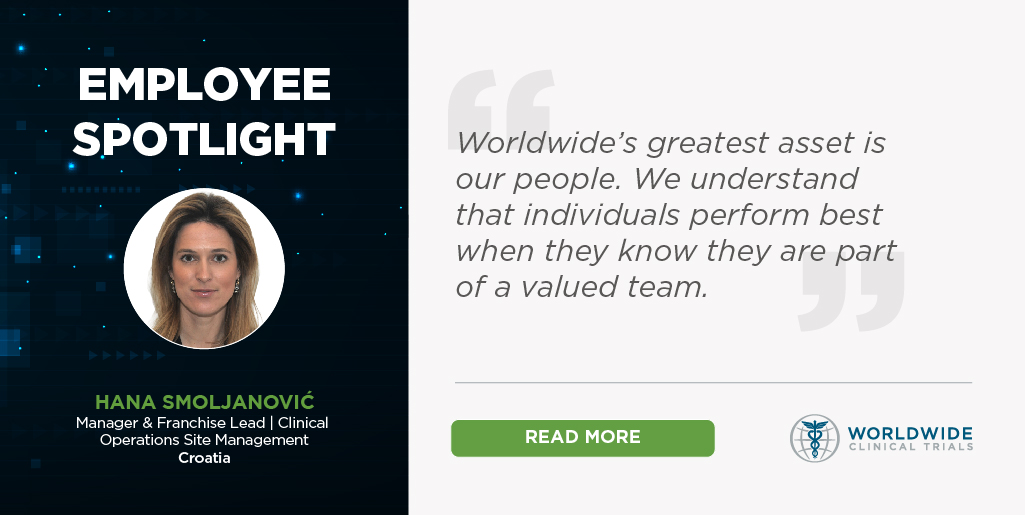 Q: Thank you for speaking with us today, Hana. Why did you first apply for a role with Worldwide?
At the time, I was working at a local CRO as a CRA outsourced to a global sponsor. A colleague I studied with, who was working at Worldwide, contacted me to see if I was interested in joining the company. But since I had just had a baby and I was not interested in a change at that time. My colleague was persistent, however, so I finally accepted an interview. The person who interviewed me thrilled me with her professional approach. She presented the company to me, the expectations of the role, and the professional development opportunities available at Worldwide. In the first few minutes, it became clear that we could achieve productive cooperation and that I would have plenty of opportunities to develop as a professional. In 2009, I joined Worldwide as a senior CRA.
Q: What makes Worldwide stand out from other CROs?
Satisfaction at work is much more than a salary; it's a place you go to improve your skillset, contribute to the greater cause, and collaborate with other team members. My experience at Worldwide has exceeded my expectations, and I'm convinced it will continue to do so. Worldwide's greatest asset is our people. We understand individuals perform best when they know they are part of a valued team. We are a diverse group of professionals focused on one goal: getting treatments into the hands of those who need them the most. Working together, the results we bring to our clients and the opportunities we bring t the team get better with every step.
Q: How has your experience here differed from similar roles you've had at other CROs?
At the beginning of my career, I worked for a much smaller local CRO. The role was restricted to a region in Southeastern Europe and had minimal professional development opportunities.
At Worldwide, we are a mid-sized CRO with an unparallel reputation for operational excellence, customer satisfaction, and innovation. We support our clients throughout their unique clinical development journey to bring promising new therapies to patients worldwide. In addition, working at a global company like Worldwide offers the chance to work with a diverse project team from all over the world, which is an incredible personal and professional experience.
Q: What does the day-to-day look like for a clinical trials professional at Worldwide?
Our clinical research associates perform all types of visits, review regulatory documentation, investigator training, assist with query resolutions, and prepare Corrective and Preventive Action Plans. As part of our commitment to high-quality monitoring services, we provide our CRAs and CTMs with comprehensive training and professional development programs to ensure compliance with applicable laws, regulations, and guidelines around the world.
Everything we do can impact patient lives, and our CRAs take that very seriously. They demonstrate empathy and act with heart. They also perform with urgency, navigating our streamlined clinical operating model to drive effectiveness and increase employee, client, and site satisfaction.
Q: How has Worldwide helped pave the way for your personal growth as a clinical research professional?
I began my career in clinical operations site management as a CRA. After which, I gradually developed to CRA I, CRA II, Senior CRA, LCRA (CTM), aCOM (associate Clinical Operation Manager), and most recently, working as a Manager of Clinical Operations Site Management Franchise Lead. It was not an easy path, but my hard work, self-development, and proactivity were recognized not only by my superiors but my colleagues who supported me on this path. The recognition and support you receive at Worldwide is a huge reason I would recommend talented and ambitious people to join our company. On top of this, Worldwide provides numerous trainings to help me develop my skills even further to meet the expectations of each new role I held.
Q: Would you recommend a career with Worldwide to a friend?
Yes, I would tell a friend to work at Worldwide. We are constantly striving to create an environment that fosters opportunities for our employees to expand their potential and provide outstanding service to our clients. I would tell a friend to work at Worldwide because they will feel valued, recognized, and respected. They'll receive learning and development opportunities for career growth, and they'll have exciting and challenging work that makes a real-life impact in a positive working environment.
Q: How have you leveraged employee rewards – such as Worldwide's flex paid time off – to ensure better work-life balance?
During my career at Worldwide, I have never had any difficulties aligning my personal plans with business priorities. During my time off, my family and I love traveling and discovering new cities and places around the world, especially around Europe – such as Italy and Paris. I can take my son (14) to tennis, and my daughter (12) to synchronize swimming as well as organize their Math and English lessons outside of school. We go skiing every year, often to Italy, and can enjoy the summers at sea, visiting the islands and coast.
Q: What gets you most excited about your work?
My team. My people. I like them a lot, and I enjoy speaking with them, discussing issues, and planning for the future.
More about Hana:
Based in: Croatia, Zagreb
Years with Worldwide: ~ 13 years
Therapeutic Ares of Focus: Cardiometabolic, with experience in CNS, IMID, and oncology
Passions: Traveling to discover new cities, spending time at the gym, hiking, running, and spending time with family and friends
Describe yourself in three words: persistent, ambitious, organized
Family & friends would describe you as:  reliable, communicative, independent
Explore your future with Worldwide Clinical Trials.
If you're seeking a career with purpose, visit our careers page to find your place within our global team of clinical trial experts.