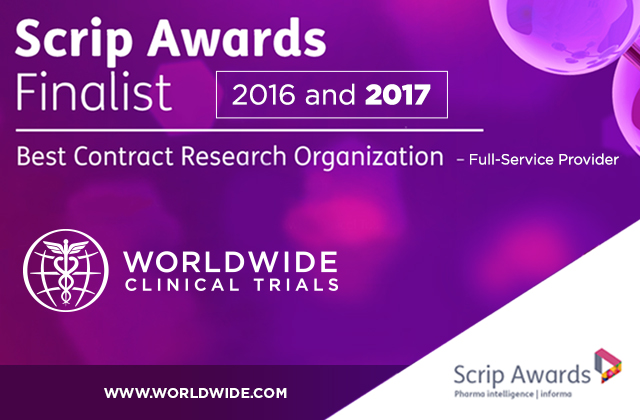 You may have seen the news that Worldwide Clinical Trials was selected again as a Scrip Awards' finalist in the "Best Contract Research Organization – Full Service Providers" category.
It's a true honor to be named a Scrip Awards finalist in 2017 alongside other highly respected contract research organizations (CROs). Congratulations to the other finalists!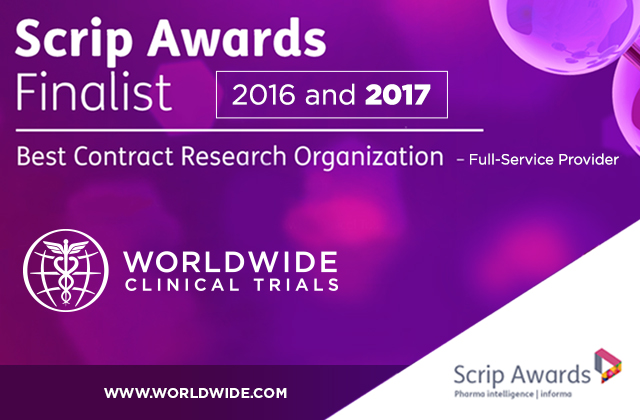 And after our 2016 selection, getting shortlisted again by Scrip this year is continued recognition that Worldwide's combination of medical, scientific, and clinical trial operations expertise is making a real difference for companies that are up against stiff odds as they try to deliver health care innovation.
Seeking new treatments and a cure for ineffective common CRO-Sponsor partnerships
I had the opportunity recently to hear about the afflictions still facing the contract research industry from a group of prominent biotech, pharmaceutical and medical device companies that attended the Outsourcing in Clinical Trials (OCT) New England conference in Boston.
Invited to deliver a presentation at the conference, I focused on what it takes to treat and cure the ineffective common standard in CRO-Sponsor partnerships. Making these relationships work is more important than ever given the growth in clinical trial complexity and time pressures.
Did you know that based on company reports of thousands of clinical trial cycle times, across all therapeutic areas, actual patient recruitment timelines end up nearly double in duration than planned timelines (1)? The CRO industry is the patient in this case, and it's time to treat this disease.
To get the audience thinking about different ways to improve efficiency through mutually beneficial partnerships – where Worldwide Clinical Trials is able to manage capacity gaps, resolve issues efficiently, reduce complexity and provide consistent, quality of execution – I asked attendees at OTC New England to consider asking CROs five tough questions when evaluating their partnerships:
DOES YOUR GLOBAL FOOTPRINT MAKE SENSE FOR MY STUDY? Are claims of a global presence enough to meet enrollment goals with trial sensitivity?
WHAT IS YOUR PLAN TO ACHIEVE OPERATIONAL EXCELLENCE? Is there a healthy marriage between the CRO's science, medicine and clinical trial operations?
HOW FOCUSED ARE YOU ON MY THERAPEUTIC AREA? Does the CRO have clarifying insights about perplexing diseases?
CAN YOU SHOW ME YOUR METHODOLOGY AND PROCESS? Is there a clear methodology in place that starts with your objectives?
WILL THIS BE A GOOD CULTURAL FIT? Can you pick up the phone and get the answers you need – at any level of the organization?
After a healthy discussion of these questions, I had a few takeaway thoughts:
The Worldwide footprint is a true differentiator. We have more than 1,600 team members spread across 60 countries! We're on the ground in the regions where clinical trials are happening. We have in depth, local knowledge of the rules and regulations, and we're ready to deliver.
We specialize in what we're good at and don't try to be everything to everyone. A key business strategy of ours has always been to focus on therapeutic areas where we have deep expertise. In fact, we just announced the addition of two leaders to our cardiovascular (CV) and central nervous system (CNS) franchises last week, and we continue to invest in four key areas where our talent is: CNS, Cardiovascular, immune mediated inflammatory disorders (IMID) and rare diseases. A sponsor should look for a contract research organization who specializes in the work they know best.
When, not if, things go sideways during the course of a clinical trial, our flexibility, accessibility, communications and responsiveness matters. In many ways a clinical trial partnership is like an arranged marriage. Our Sponsor partners are driving complex, global trials, with tight timelines. We continue to build our culture based on the attributes that will foster long-term, sustainable partnerships. We're accessible – at every level of the organization. We're flexible – striving to adapt to Sponsor personalities, processes and work styles. Our size and therapeutic focus helps us here: we can offer the high-touch experience and guidance small to mid-size Sponsors need.
I'd love to know what you think. Did we leave a question off the list? What are your biggest hurdles to delivering on clinical trial goals today? And how do you see change coming in the future?
Worldwide Clinical Trials' Therapeutic Expertise
Learn more about Worldwide's Therapeutic Expertise in our four key areas or contact us to learn more at +1 610-964-2000.
Reference
Getz KA. The elusive goal of optimizing development operations. Applied Clinical Trials, April 1, 2017.