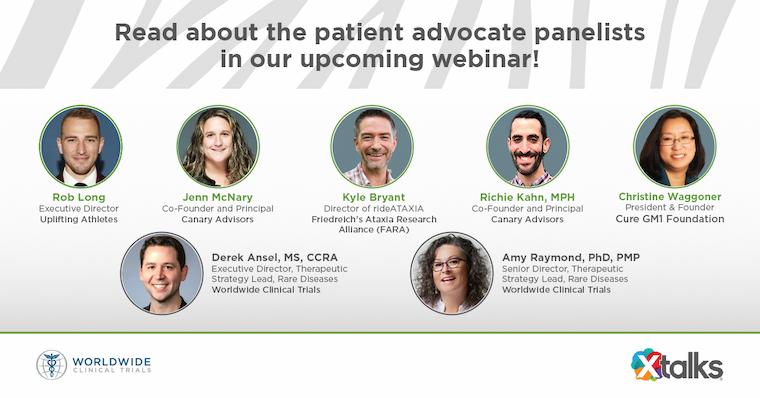 Rare Disease Day on February 28th is a chance for rare disease communities to come together as one and join in conversation with stakeholders searching for treatments, raising money to support research, and changing the way healthcare and governments interact with patients.
With so many important discussions happening this year between stakeholders, it is impossible to be a part of them all. Our rare disease team at Worldwide will be hosting a panel discussion webinar with patient advocates active in Rare Disease Day events to synthesize the most salient conversations taking place. Panelists will answer questions such as: What are the greatest challenges holding patients back from enrolling in trials? What will have the greatest impact on rare disease patients in 2023? What does our industry still need to consider in order to create more accessible treatments?
Katie Nichols, senior project manager at Worldwide Clinical Trials, has been dedicated to rare disease research for seven years, seeing the impact firsthand that the progression of rare disease research has on rare disease communities. Katie recently caught up with our speakers to learn more about the work they are doing in the rare disease space.
See their conversation below and register for the webinar to hear more from these advocates!
Katie Nichols: What is your connection to rare disease communities?
Kyle Bryant: When I was 17, I was diagnosed with Friedreich's ataxia (FA), and my entire life changed. As I struggled to adjust to a new vision of my future, I began raising money for Friedreich's Ataxia Research Alliance (FARA). I completed a few long-distance rides and raised some funds for research, and in the process, I realized this is what I wanted to do with the rest of my life. I joined the FARA staff in 2009, and our team built a nationwide series of bike rides called rideATAXIA to raise funds for research. I also recently started a weekly podcast called Two Disabled Dudes where we focus on living life beyond your circumstances. It's important to us to promote the idea that no matter your challenge, you don't have to let it hold you back.
Christine Waggoner: I became involved in the rare disease community the same way a lot of people do, because their child, or someone they love, was diagnosed with a rare disease. In my case, my daughter Iris has GM1 gangliosidosis. We decided we wanted to fundraise to advance the GM1 cause, and we set a modest goal. We initially didn't have a nonprofit, but through the generosity of our friends, we exceeded our expectations beyond our belief and set up a nonprofit to address the amazing support. Cure GM1 Foundation's mission is to fund research for the benefit of all those who suffer from GM1 gangliosidosis, a lysosomal storage disease that attacks the brain and spinal cord.
Richie Kahn: I'm a public health and advocacy guy by training, a clinical researcher by trade, and a patient advocate by necessity. Back in 2019, I was working in sales for a full-service ophthalmology-focused CRO when I learned that I was going blind due to a rare and orphan disease called Wolfram syndrome. So, I decided to pivot. I was fortunate to understand how the clinical development sausage is made and was frustrated by the fact that we could do a better job to incorporate the patient perspective into the studies we design and the therapies we commercialize. At Canary Advisors, we concentrate on patient-focused drug development, making sure sponsors, regulators, and other key stakeholders can better align with what's most meaningful to patients. After all, there's no sense in spending the time and money to bring new treatments to market that patients don't want or need.
Jenn McNary: When I was 21, both of my sons were diagnosed with Duchenne, a rare muscle-wasting disease. My son Max ended up in the historic Duchenne clinical trial for Exondys51, and our family's advocacy work contributed to the approval of the treatment, the first treatment for Duchenne. Five years ago, my now 15-year-old son was diagnosed with primary immune deficiency, and I entered a new world of patient advocacy, treaters, and medical choices. I have spent the years since the diagnoses of my three sons supporting their participation in clinical trials, caregiving, finding medical treatments, and sorting through access issues. I've spent my professional life working in nonprofits, a brief time in industry, and now I am working as a consultant as a co-founder of Canary Advisors, helping to bring products to patients who need them. I have a special affinity for connecting patients and caregivers to decisionmakers in biopharma, the FDA, on the Hill, and in payor roles, with a goal of amplifying their voices.
Rob Long: As a rare cancer survivor, I am deeply grateful to have the chance through Uplifting Athletes (UA) to support researchers creating the fundamental datasets for rare diseases. Without this data, we will not get closer to the cures or treatments that our rare community needs. UA leverages the platforms of college and professional athletes to raise awareness for rare diseases and raise funds that drive research into these diseases forward. We partner with patient advocacy groups and investigators looking for an opportunity to produce meaningful research and bring them together to achieve mutually beneficial goals. For me, it's a chance to pay it forward.
Katie: What can our industry learn from your journey through diagnosis and treatment?
Kyle: For good reason, industry is focused on outcome measures and other data-driven things, but I think it's important to remember we are people first. I have participated in many trials and studies. Recently, for the first time, a study asked, "how does that make you feel?" and other questions that hit upon my emotional experience. These kinds of measures make us feel like people, and I'd love to see more incorporation of measures like this.
Christine: Many people impacted by rare diseases endure a long and complicated diagnostic odyssey. Anything that can be done to speed diagnoses and increase accuracy of diagnoses would be truly helpful. The number of rare diseases and the economics of developing so many treatments is a major societal issue. To scale processes and meet demand in a timely, economical manner requires radical innovation.
Richie: This is a question I think a lot about through my work with the Decentralized Trials and Research Alliance. Everyone is an n=1 with a unique journey. Still, there are a multitude of ways to support all patients, especially in respect to clinical trials. By thoughtfully designing programs focused on making clinical trials more accessible, equitable, and just, we can smooth some of the bumps in the road for patients everywhere. Things like flexible hours, thoughtful use of technology and provision of Wi-Fi hotspots, transportation, vouchers, considerations for caregivers and siblings, and never asking patients to front money for study-related travel and reimbursement, all make a difference.
Jenn: Our family has spent the past 12 years as a part of one or more clinical studies, nonstop. Each person in a clinical trial is an actual life, and it's important to keep that perspective front and center. Industry should strive to understand that patients need an opportunity to contribute and are indeed the experts in the room, deserving appropriate value for that work.
Rob: When I was diagnosed, my mother was adamantly against a clinical trial. Our family has a long history with cancer, and my family members who had participated in clinical trials did not have a good experience. Now, I know why clinical trials can be a good option, and we need to change the narrative around trials. Sometimes it is the best or better option, and it's important to create a dialogue that helps new patients to understand the reality of a trial.
Katie: What would you like to leave our readers with about your organization or the indication(s) you are dedicated to?
Kyle: On February 28th, the very first treatment for FA may be approved. This is a huge milestone for us. It's amazing to see the years and years of little actions, relationships built, and the progression of science, all culminate at this point. The data in front of the FDA right now shows a slow in progression of FA compared to natural history. This has the potential to benefit a lot of people, and my community is thrilled.
Christine: Cure GM1, our small and mighty nonprofit is a true labor of love. When our daughter was diagnosed, there were no clinical trials for her diseases. Now, through advocacy, there have been four trials and there are more to come. While we certainly do not try to take credit for all the trials and research, the difference advocacy can make, even without a ton of money, is notable. We are grateful to the companies, researchers, professionals, and doctors who collaborate with us.
Richie: Canary Advisors works across all rare disease indications and is especially proud of the work we do to complement regulatory submissions with qualitative, patient, and caregiver experience data collection.
Jenn: I would love to give a shoutout to One Rare, an organization which my oldest son and I co-founded to serve young adults living with rare diseases. It is primarily run by young adults including my sons and others in the rare community. Patients are living longer due to innovation, and we need to be sure we are meeting them where they are.
Rob: UA first began donating funds to researchers through our annual event, the Young Investigator's Draft, in 2018. That year, we gave out $10,000 grants to six investigators and their patient communities. This year, we gave out $20,000 grants to ten investigators and communities working towards a treatment for their disease. Over the last six years of the Young Investigator Draft, we have partnered with 33 patient advocacy organizations to fund 44 researchers and give over $820,000 in research grants. It's been amazing for us to see what we have been able to do for these communities with the help of our donors, and we have big dreams for the future of our work.
Hear more from these patient advocates by registering for our upcoming webinar, Rare Disease Day 2023 Wrapped: What You Need to Take Away. You can learn more about the work these panelists are doing below:
Kyle Bryant: FARA
Richie Kahn: Canary Advisors
Jenn McNary: Canary Advisors & One Rare
Christine Waggoner: sweetiris.org and Cure GM1 Foundation
Rob Long: Uplifting Athletes