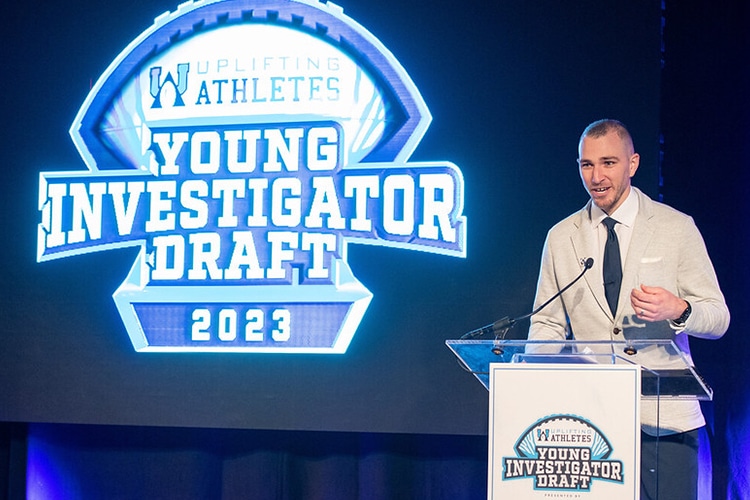 95% of rare diseases don't have a treatment approved and won't anytime soon. Uplifting Athletes (UA) is on a mission to change that.
Back in 2010, Rob Long was a 22-year-old football player at Syracuse University on the path towards his dream career of becoming a punter in the NFL. But just a few months before his college graduation and the start of his career, Rob's dreams fell to pieces. He found out he had brain cancer — a rare, aggressive brain cancer with only a 15% chance of living even another five years.
"To say it was devastating is an understatement. By all appearances, I was healthy. Though cancer ran in my family, we definitely weren't expecting this news, and the survival rates left little to be hopeful for," says Rob. Miraculously, there was an approved treatment. "Just 36 months before my diagnosis, a chemotherapy had been approved for my cancer. I consider myself very, very lucky in a number of ways, but especially this one. It saved my life."
Rob's Serendipitous, Full Circle Moment
Rob has been cancer-free for 12 years. Three months ago, he realized he knew little about the drug that saved his life, and he decided to look into how his chemotherapy was created. What he was about to uncover would add new meaning to the work he does every day as the executive director of Uplifting Athletes.
Rob found out that in 1980, a researcher in Birmingham, England first synthesized a very niche cancer drug in a small lab.
Over the next few decades, that drug made its way through clinical trials, securing approval in 2007—just 36 months before Rob was diagnosed in 2010.
But what was truly remarkable?
This treatment only exists because a small charity in the '70s donated the funds needed for the researcher to discover it.
Four decades later, Rob realized he had coincidentally dedicated his life — a life saved because of that charity — to driving life-saving treatments to market in the very same way, as the Executive Director of Uplifting Athletes.
Uplifting Athletes
As a 501(c)(3) nonprofit, UA harnesses the power of sport and partnerships with patient advocacy groups to fund the researchers developing datasets for rare diseases that have never been studied or understood before. One significant obstacle to discovering treatments is a lack in understanding of most of these diseases and how they affect the body; without this understanding, it is nearly impossible to find a mechanism of action that affects the disease.
Rob came to UA after his teammates at Syracuse University started the Syracuse chapter of UA in his name while he underwent treatment. He became an ambassador for UA, joining them a few years later full-time to dedicate his career to this work.
"What is so important about the work we do is this basic bench research is the foundation for all the progress that follows. If we don't fund this research, we never have the chance for treatments, cures, or innovative therapies. It really has to start from square one," says Rob. And that's exactly where UA starts.
With the goal to fund research that will lead to treatments, UA builds connections with college and professional athletes to leverage their platforms to build a greater awareness of rare diseases and to fundraise. UA then heads out to tackle the preceding problem to the lack of data — the lack of researchers studying rare diseases to create it. UA goes to universities to meet graduating medical students and offer them the chance to work with a disease that has never — or has hardly ever — been studied. The chance for these young physicians to produce influential research is far more attainable with a rare disease where competition is low and the need for research could not be greater. Talking with these physicians, UA inspires them to consider rare disease research, connecting them with a patient advocacy group seeking a researcher willing to study their disease.
For a patient advocacy group, this means (for often the first time), a physician is studying their disease and creating the dataset needed for an eventual treatment. The significance of this opportunity for these communities cannot be overstated. By connecting these communities, UA gives these physicians access to patients to help understand the disease, influence their research, and fund continued advancements. UA doesn't just offer hope to these patients, they create the channel for change to happen.
The Catalyst for Life-Changing Research
Just a few weeks ago, UA hosted their annual Young Investigator Draft, an event Rob and his colleagues started in 2018 to fund these investigators and celebrate this moment for the rare disease communities. To be "drafted" and receive funds, investigators and the patient advocacy group they partner with apply jointly for a grant. At this event, they receive the funds to start their basic bench research.
In 2018, the draft funded six investigators with $10,000 grants, and this past year, they were able to fund 10 investigators with $20,000 grants, giving 10 rare disease communities a chance to find a treatment.
"We are joining these researchers and patient communities on a decades-long journey to get a drug to market. Each year, through our generous donors, we are able to grow the number of investments we make," says Rob. "This is important work, whether these investigators succeed or fail. The failures are just as important as the successes — knowing what doesn't work only gets them closer to what does. It is incredibly rewarding knowing we can make these commitments to the work these researchers are doing for these communities."
What UA does is more than just fund — they are the catalyst for progress. Rob explains, "With the grant money from UA, these researchers collect the initial dataset that can then secure supplemental funding. For example, one of the investigators we funded a few years back was able to create the dataset needed to secure a large research grant from the NIH to continue their research."
Though these researchers specialize in a particular disease, the work they do has much broader implications, including for exploration of personalized medicines.
"In 2018, we partnered with Project ALS to fund research at Columbia University into synthetic motor neurons in ALS patients. Though seemingly focused on ALS, this research provides almost endless opportunities for testing and understanding how neurons react and impact all sorts of diseases," says Rob. From dementia to Parkinson's disease, this research is fundamental for the future development of treatments for many neurodegenerative diseases.
"My hope is that the researchers we fund today will one day have the opportunity to meet the patients that in 10, 20, 30 years, they will save. I owe my life to this work, and I feel lucky every day to be able to do it."
To hear more about Rob and the work they are doing at Uplifting Athletes, register for Worldwide's upcoming webinar featuring Rob, Rare Disease Day 2023 Wrapped: What You Need To Takeaway. You can learn more about Rob, Uplifting Athletes, and the work they are doing on their website.