Three Reasons Military Veterans Should Consider a Career Path in Clinical Trials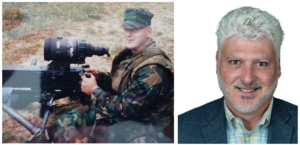 I look back on my days as a Captain in the United States Marine Corps, and the skills I learned have driven my career success in healthcare, first working at Pfizer running drug development programs, and now at Worldwide Clinical Trials leading clinical research to bring drugs to market.
There are three things that I attribute to my success and, this Veteran's Day, I'm asking military veterans to join me in improving patients' lives at Worldwide Clinical Trials.
Exceptional project management skills
Clinical trials are complex, so it is essential to have exceptional project management skills to ensure that trials are set up, enrolled, conducted, and reported on time and on budget. Military veterans typically possess this ability. The project management skills I used as a combat engineer to build bridges, roads, and explosives gave me the discipline that has been a common thread throughout my career.
Commitment to a cause bigger than themselves
Along with discipline and project management talent, military veterans have the commitment to a cause bigger than themselves. People at Worldwide care about the patients and want to see drugs get to market that can improve patients' lives and drive healthcare forward.
Along with this commitment comes the dedication and work ethic to spend the time. It's easy to have a work ethic when you believe in something. It doesn't feel like work anymore. You're trying to achieve the greater good.
Teamwork over the individual
Another critical skill that military veterans possess is teamwork. They understand the value of the team over the individual. Teamwork is critical in running clinical studies to not only hit the milestones of the study but to keep patient safety at the forefront.
Most traditional military veteran job agencies don't mention working at CROs, but it's something you should consider, as no prior CRO experience is necessary, and it offers a great work-life balance. One example of a role to apply for is that of a Clinical Research Assistant (CRA). Many CRAs have been military doctors, nurses, and corpsmen who can bring that clinical knowledge. Those skills are easily translated to project management at a CRO.
To see open employment opportunities with Worldwide, please visit Worldwide Careers.