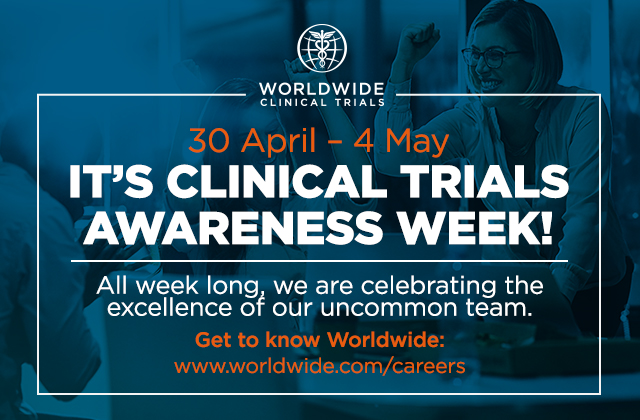 It's Clinical Trials Awareness Week and that's a big deal here at Worldwide Clinical Trials! Why? Because our team of highly dedicated and tenacious CRO professionals make clinical trials possible, and we think that is worth celebrating!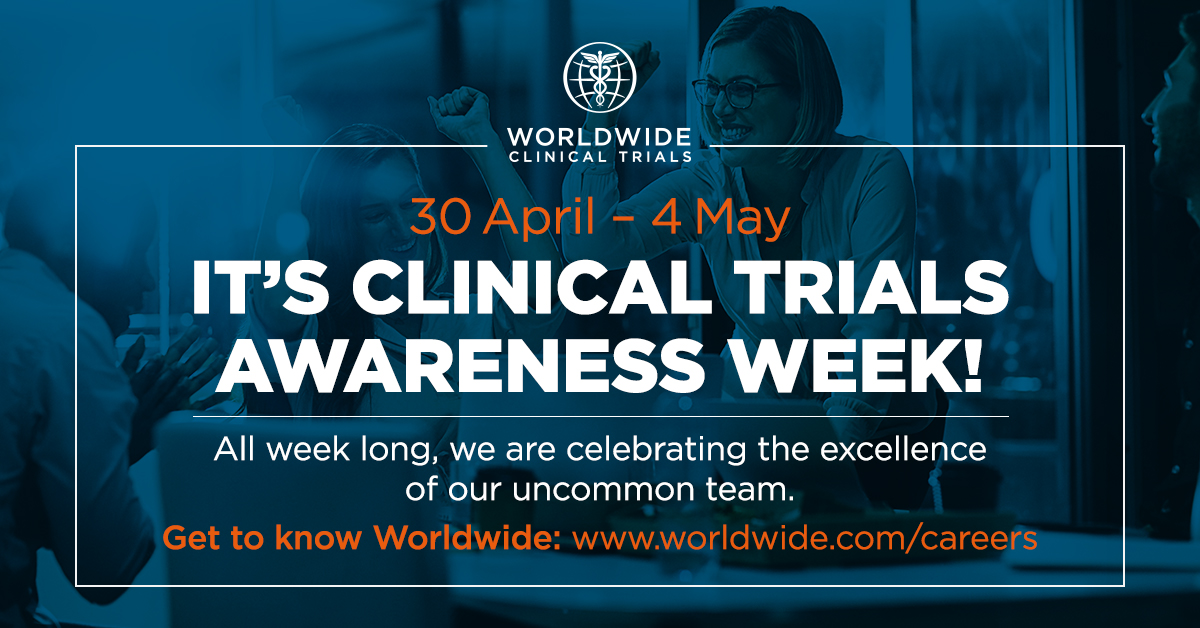 We're making Clinical Trials Awareness Week special with a highly anticipated webinar titled, "Give Me a Reason to Stay: The Opportunities and Challenges of Retaining CRAs." With participants from across the Worldwide organization, it promises to be a lively program. Please join us to contribute your questions and opinions! Reserve your spot for the webinar.
Our global team is comprised of approximately 1,600 uncommonly talented team members. They care deeply about our mission, which is to work with passion and purpose every day to improve lives. They make it personal because they know that millions of people are affected by various illnesses and diseases that potentially could be eradicated or treated by a drug undergoing a clinical trial. And they work hard because they know that a successful clinical trial requires it and because the stakes are simply too high to give anything less than their very best.
Many of us at Worldwide Clinical Trials have also been personally touched by a disease or an illness, and we want to do what we can to help find a cure so that others do not have to suffer. Chris Mason, a Lead CRA based in the United Kingdom, recently shared that his nine-year-old niece was diagnosed with hemolytic uremic syndrome (HUS), requiring hospitalization and dialysis. She subsequently was placed in a clinical trial, which, fortunately, helped her recover. By going through this experience, he saw firsthand how difficult it can be for families to not only decide whether to enroll their child in a clinical trial, but the whole experience of participating in one, which can be stressful and unsettling (yet potentially rewarding) to all who are impacted.  
Chris said, "It is only because of the hard work of professionals in our industry that my niece got to have the chance at a treatment by well-trained and diligent investigators. I keep her experience in my mind every day as I work on my studies as a reminder of the real impact of our work and how many lives it can touch. I'm proud to be part of the Worldwide team that promotes values, such as excellence and tenacity, as we work with our sponsors to improve patients' lives."
Join us as we celebrate Clinical Trials Awareness Week and the professionals behind them by registering for our May 2 webinar, "Give Me a Reason to Stay: The Opportunities and Challenges of Retaining CRAs." And, if you are looking for an uncommon career in the contract research industry (not just a job!), and one that gives you the opportunity to help save lives and introduces you to some of the most highly skilled and experienced professionals in the world, browse our current career openings.