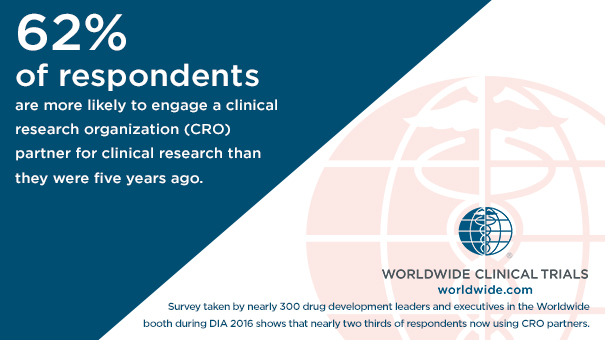 Every year, the Drug Information Association (DIA) brings together leaders of the pharmaceutical and biotechnology industries to exchange knowledge and collaborate during its annual meeting. That's why Worldwide Clinical Trials surveyed 300 DIA 2016 attendees—drug development leaders and executives—to find out how they view clinical research organizations (CROs). In that survey, 62 percent of respondents confirmed that they are more likely to engage a CRO partner today than they were five years ago.
It's clear that CROs like Worldwide play an increasingly important role in modern drug development—but how do sponsors select a CRO partner?
Innovation, Cost-Effectiveness, and High-Quality Data
According to our survey, which was conducted in Worldwide's booth over three days, almost a third (29%) of respondents said that innovation in overall trial management would have the greatest impact on the success of a clinical development program, while just over a quarter (26%) named innovation in patient recruitment and retention as having the second biggest impact. These are the very reasons why Worldwide continues to stay on the forefront of trial design and management, including leadership in "siteless" clinical trials and adaptive clinical trial design.
When asked about roadblocks to new drug development, these leaders and executives pointed to the cost of discovery research and clinical development, regulatory guidance, and the risk associated with the clinical development process as the most critical issues—the very reason why Worldwide works closely with sponsors to develop true, risk-sharing partnerships.
And when it comes to choosing the perfect CRO partner, respondents stated that the CRO's ability to deliver high-quality data is the most important factor (83%)—followed by the CRO's ability to deliver on time (76%) and within budget (68%). As for which phase investigations a sponsor will engage a CRO for, it's all of them—with later phase investigations (Phase 2 to Phase 3) only narrowly ranking as more likely than earlier phases.
These survey results confirm that we're making the right decisions at Worldwide Clinical Trials. Our 30+ years of science, medicine, and operations expertise allow us to deliver innovative planning and risk management strategies for early through late phase clinical research programs. With our open communication and frequent measurement and reporting, we meet our sponsors' needs and successfully execute trials across our therapeutic areas of focus, including neuroscience, cardiovascular diseases, immune-mediated inflammatory disorders (IMID), and rare diseases. To learn more about our full-service CRO, visit Worldwide.com.