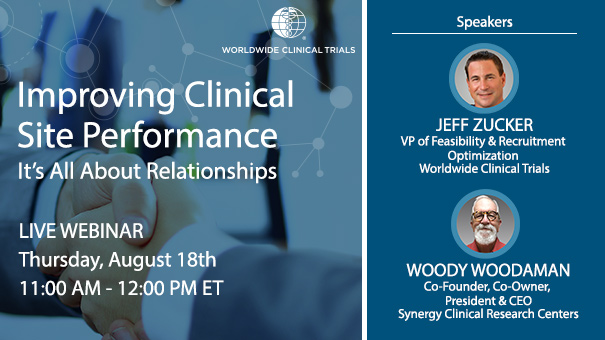 It's All About Relationships
Today, technology has made it easier than ever for Contract Research Organizations (CROs) to engage directly with patients. However, that capability hasn't diminished the need for strong relationships with investigators and sites. Sending patients to a site that feels disconnected from a study can be unproductive, while a motivated site can become a key partner, advocating for the CRO at every level and helping the CRO assess protocols, start studies, recruit patients, and ensure top-quality data.
It's the CRO's job to make it easier for sites to execute clinical trials, and we can start by forging strong relationships with our study sites, acknowledging their unique contributions and synergy that can be possible during study conduct.
Worldwide Clinical Trials has developed a four-step process for building stronger relationships with study sites:
Engagement: Meet with the site's and network's leaders to lay the groundwork for a close, professional partnership.
Initiation: Develop and document how you'll work together, to ensure clarity of role and purpose. 
Planning: Outline operating processes that the two organizations can use, such as procedures for handling new study opportunities, feasibility, and patient recruitment. Identify potential gaps and incorporate them into a process improvement plan. 
Execution: Mutually agree upon a dashboard to track success, and launch the first study. 
Even once these four steps are complete and the first study has been launched under this newly formed relationship, you must continually review successes and opportunities for improvement.
Everyone Benefits From Strong Site Relationships
Sites find it easier to work under a clearly defined relationship that engages them early and often. The sites will know exactly what to expect, how to plan, and which procedures to use. And CROs enjoy better site engagement, greater site commitment, an expedited consultation process, faster start-up, better patient enrollment, and more.
As with any relationship, communication is critical. Even when using our four-step process to start the relationship, it's important to visit the sites, speak with them often—even in between trials—and treat the site as a partner, with clear expectations on both sides. When the relationship is strong, it's easier for the CROs and the sites to conduct successful studies—and everyone wins.
---
On Thursday, Aug. 18, I hosted a live webinar titled "Improving Clinical Site Performance: It's All About Relationships." I dove deeper into ways in which CROs and sponsors can enhance site partnerships to optimize study execution. You can view the webinar recording with myself & Woody Woodaman, Co-Founder, Co-Owner, President & CEO of Synergy Clinical Research Centers. Click here to learn more & watch the recording.