BREAKING BOUNDARIES WITH BIOMARKERS
Biomarkers can help determine a drug's efficacy and safety quickly, allowing for an accelerated drug development program. As such, the measurement of biomarkers has increased over the years.
Worldwide knows the importance of biomarkers, notably becoming the first CRO in the United States to develop a highly sensitive panel of central nervous system (CNS) biomarkers utilizing LC-MS/MS. The LC-MS/MS based assays allowed for more sensitivity and accurate measurements, which are critical when evaluating biomarkers against endogenous levels.
ABOUT WORLDWIDE CLINICAL TRIAL ASSAYS
Worldwide has some of the most sensitive assays for these biomarkers, capable of accurately measuring the up/down regulation of endogenous neurotransmitters in plasma and cerebrospinal fluid (CSF). We also support the measurement of low levels of steroids using novel approaches of derivatization and LC-MS/MS analysis.
Worldwide also contains fully validated assays for retinoids, selected lipids, and peptides. Our standard operating procedures (SOPs) and validated methods adhere to current regulatory guidance. We are and will continue to remain at the forefront of the regulations, adding to our existing panel of biomarkers.
(Click graphic to enlarge analyte chart)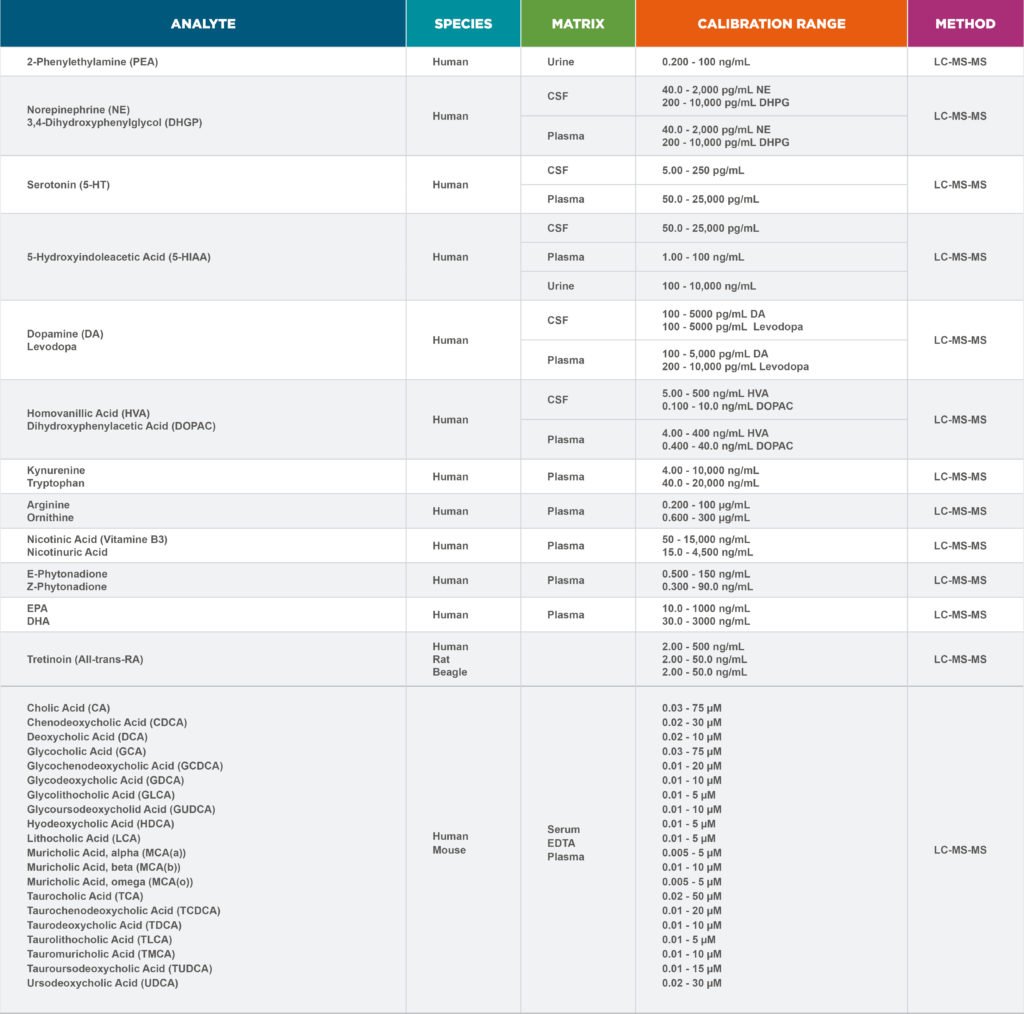 CLOSE PROXIMITY CLINIC AND LAB ALLOW FOR PARTNERSHIP THAT LEADS TO UNPRECEDENTED CSF COLLECTION
Worldwide works hand in hand with our clinic to pioneer processes and techniques to provide reliable values. In fact, the Dyna-bridging technique of continuous cerebrospinal fluid (CSF) acquisition was first established at Worldwide's clinic in San Antonio, TX. Our bioanalytical lab developed and validated the methods for the neurotransmitters of interest in both plasma and cerebrospinal fluid (CSF.)
READY TO EXPERIENCE THE SUPPORT OF AN AWARD-WINNING TEAM?
In a recent benchmark report established by Industry Standard Research and Life Science Leader, our customers were able to comment on their experience with us. Here's what one executive had to say:
"Great chemistry with the team and everyone is willing to get the job done right"
Ready for assistance with the measurement of biomarkers for your drug program? Contact an expert now.