Why I Fight | A message from Jose Martinez, MD for National Cancer Survivors month in June
Life after cancer is about more than just survival. It's not just the length of life that matters, but also the quality of that life. Join us as we #CelebrateLife and raise awareness of the challenges of cancer survivorship during National Cancer Survivors month in June.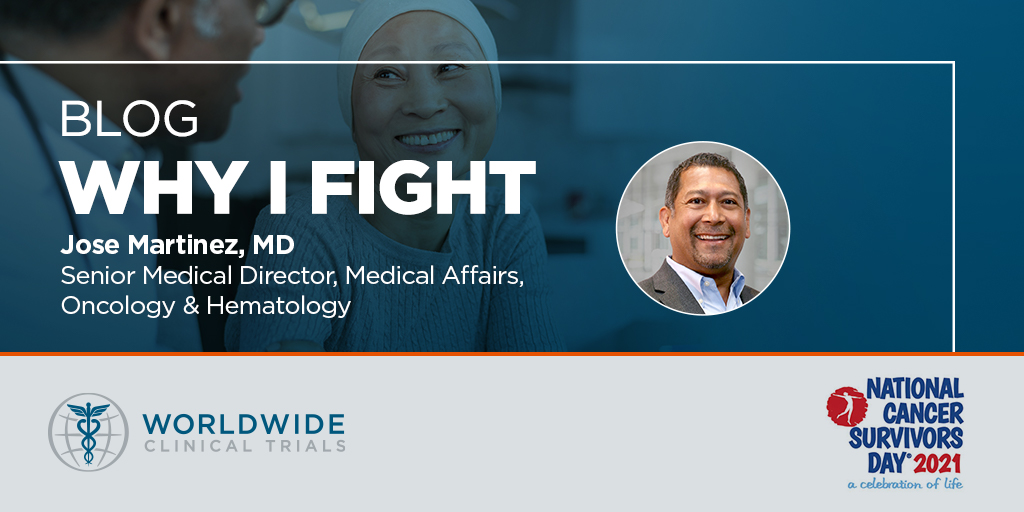 My Early Experience with Cancer
I learned the word cancer when I was 12 years old, when my mother died due to cervical uterine cancer at age 42, a very young woman. This is what made me think about studying medicine. Her memory fuels my passion to provide hope to patients that need new promising therapies. Now, being in this industry is one way to add my grain of salt to the effort of helping patients with cancer. In my current role in oncology, working as a medical monitor in medical affairs, my function is to protect the safety and welfare of cancer patients and to uphold the rights of those who participate in clinical trials.
We need new cancer treatments. Oncology has one of the highest percentages of people who die due to their illness. Therefore, it is crucial to continue our work in clinical development to make these treatments available. When we participate in clinical trials with our sponsor partners, we provide hope to people through conducting clinical development work to make new treatments available to the public.
Timing Is Everything
When a person is diagnosed with cancer, their entire outlook changes. It's a 180-degree change in their perspective of life, especially with respect to time. We hear it from patients often; they just want time to be present for their lives. Sometimes it's a wedding, a birthday, or some holiday like Christmas, to be there for those special moments.
My passion is to help patients who need treatment, but I believe the timing of the diagnosis that really matters in some of these diseases, especially for the most lethal cancers, like pancreas or ovarian, it's how early you detect this cancer. I would love to see more preventative actions from medical professionals to be able to detect cancer prior to experiencing symptoms. For me, the most important thing is to screen patients, to create ways to be able to detect cancers like pancreas, ovarian and brain cancer, before they cause problems and deteriorate the health of the patients.
My Life's Work
I started in this industry 24 years ago and am proud to have been instrumental in investigating new treatments for colorectal cancer, glioblastoma, and breast cancer. Having worked for both the sponsor and CRO companies, I gained an understanding of what is at stake as we try to get new treatments to the people who need them. As a member of the American Society of Clinical Oncology and the American Association for Cancer Research, I am able to advocate for clinical development and on behalf of patients participating in clinical trials.
In my role at Worldwide Clinical Trials, I am able to continue with this work with other professionals who are committed to the fight against cancer. We feel empathy and sympathy for these patients who need care, which include our friends, colleagues, family members, and anyone else who is experiencing this disease. We have all been touched in some way by cancer.
The COVID-19 pandemic created a thoroughly different research landscape. We had to be flexible and adapt to help patients continue their participation in studies. We had to figure out how to make it easier and possible for patients to do the visits that are essential for their treatment and clinical trials. We did what we could do to enable virtual visits so that the patients could stay safe from any potential infections.
My goal is to continue to support sponsors working on this mission to develop new treatment pathways and bring them to the patients that need them. Seeing these promising therapies and making them available for the patients that are suffering right now gives me hope.
Making a Difference
One of the things I really love in the time that I've been at Worldwide is that I feel that we are a family. Behind me, beyond my role, I have the support of my colleagues. I believe all of us, as human beings and Worldwide as a corporation, are making a difference with our work. No matter what position or title that one may have, we all form a vital and essential role in the fight against cancer.
Learn more about Jose and his work with oncology at Worldwide Clinical Trials.